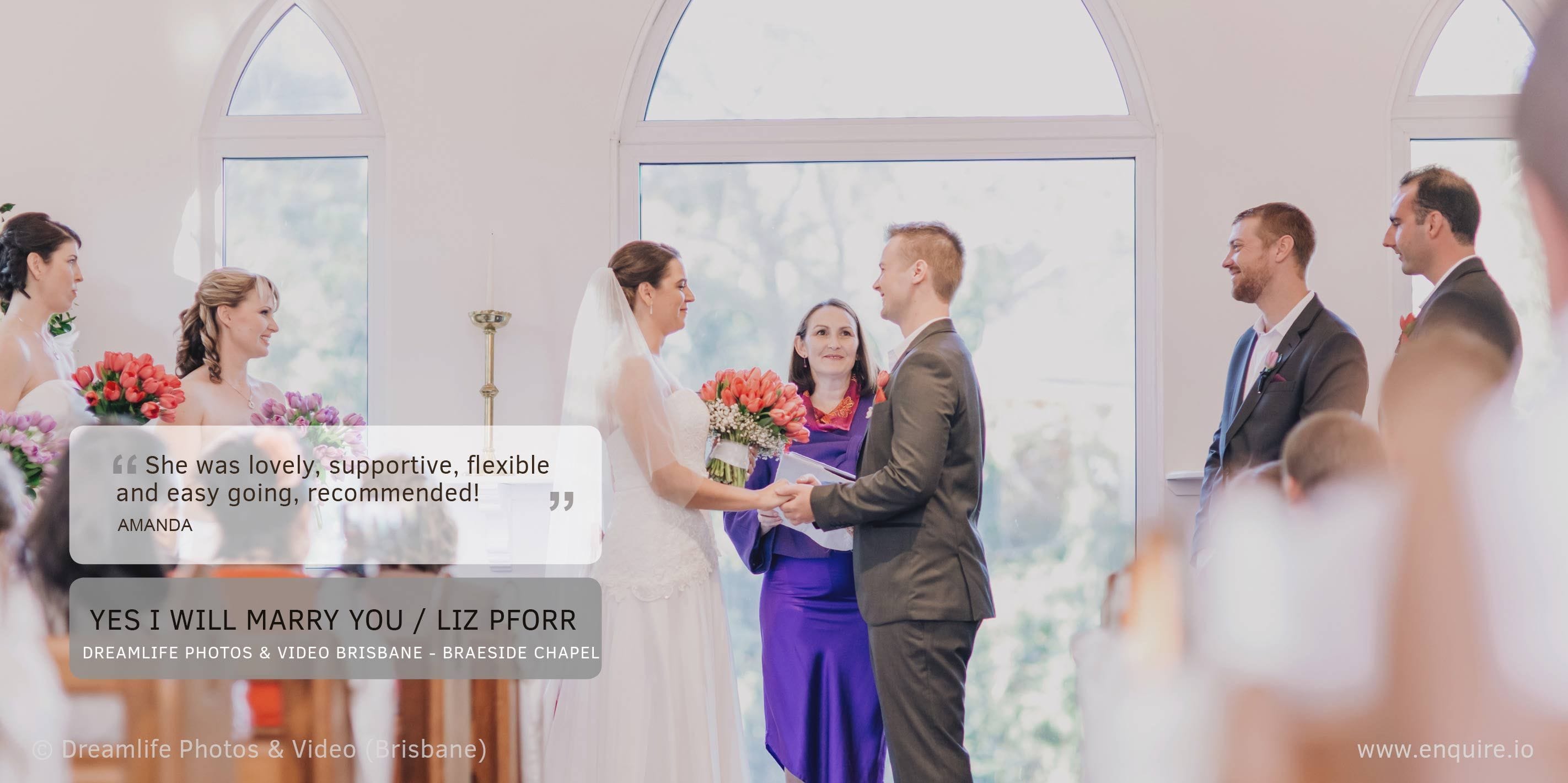 Just some of the recent shout outs from well over 2000 ceremonies. For more unedited reviews please visit my Facebook business page or Google reviews.
'Hi Liz, Just a short note to say thank you for the wonderful ceremony that you performed for us. So many people commented that it was the best they had ever seen/heard. Everyone loved your golfing humour and the whole afternoon was a wonderful success thanks to the start that you gave the occasion. We thank you so much for making our wedding day a wonderful experience. With thanks Wee Val and Robbo. Mr and Mrs Robinson' May 2022
'Dearest Liz, I am actually getting a little choked up writing this to you... We couldn't have been happier with everything you did for us on our special day - you did THE most important thing in our lives... and to do it with such empathy, humour, professionalism, warmth and love was exactly as we wished for.
Many of our guests and family commented on what a beautiful lady you are (I was like, uh yes, you're not telling me anything I don't know!) and how lovely the ceremony was... and again, that's thanks to you!
With all the date changes, you were always my first check. I knew in my heart that it HAD to be you. You made the day complete and so beautiful.
If I can ever provide any type of formal testimonial for you - I would happily do so a million times over! We are so lucky to have had you as our celebrant, and as our friend.
Even though thank you doesn't quite cut it, a million thank you's from Brad and I for what you did for and with us. Lots of love' Christina & Brad xxx Sol Gardens March 2022 (Christina is a former Wedding and Events Co-Ordinator)
"AMAZING! Liz went above and beyond for us in the lead up to our wedding. Liz helped us with many questions and queries along the way and made our ceremony absolutely perfect. We felt so comfortable with Liz and she was always willing to help no matter what. I highly recommend Liz Pforr." Chonnie & Jordan Braeside Chapel
"Liz Pforr is a fantastic celebrant! She is always a pleasure to work with and creates a beautiful atmosphere for all ceremonies. It is a rare treat to encounter someone that is so friendly and naturally welcoming. We look forward to working with her again." Kylie Dittrich & Monique Sutherland, wedding & function co-ordinators from Albert River Wines
"Liz was amazing, she went above and beyond every step of the way, to calming me down on the big day so I wasn't so nervous to sending us personal photo's her lovely husband took on the day. Would recommend her to anyone in a heartbeat!!! Thanks so much Liz for making it a perfect day." Cameron (Groom) 20th February 2020
'Liz is incredible! Over a month of preparation she became our friend, supporter and a guide. She is so kind, gentle and patient, exactly what I needed to prepare me for my special day. She went up in the hot air balloon with us and helped to make the day even more incredible, beautiful and delicate. Thank you Liz' Anastasia 27th December 2019
'Jarrad and I can not express how thankful and truly blown away we were today! You are the most amazing person ever! Everything was what we dreamed about. Words can not express how truly grateful we are for having an amazing celebrant. You truly go above and beyond!!!! Until we have a baby naming ceremony, we will love you with all our hearts for giving us the most magical ceremony anyone could ever ask for!! Much love, Brad and Jarrad Johnston' Arundel Hills Country Club October 2019
'Dear Liz, We really don't know how to thank you for all of your time and support leading up to, and on our wedding day. We're so grateful to have met you, and to have you play the most significant part of our wedding. You truly made the most incredible day of our lives so far an absolutely unforgettable one! Thank you from the bottom of our hearts! With love Tenille & Brad xx' Braeside Oct 2019
'Hi Liz! Thanks for the pics and thank you so much for your services they really were amazing, everyone commented on how angelic you sounded and how nice the ceremony was! And I really have to thank you for the call on the day, I was starting to get a little nervy and your call just brought me back down to earth which I needed! Haha. All of our vendors were great and everything - including the weather went ahead without a hitch! Thanks a million' - Mr & Mrs Batey, Cowbell Creek June 2019
'Hi Liz, Thank you so much for a wonderful ceremony on Friday. You were amazing! We had the best day eva and were so happy that you married us.' Amanda & Boyd, Cowbell Creek Feb 2019
'Hi Liz, I just wanted to reach out and thank you for the lovely ceremony and the nice card. Everyone said it was such a nice well written ceremony. Thank you again, it was just perfect!' Tessy & Mike Pethers Rainforest Retreat, Nov 2018 renewal of vows
'Hi Liz, Thank you so much for your service! The day was perfect and we had the best time. It sure did go very quickly though.' Zoe & Richard Fig Tree Restaurant, NSW Oct 2018 Video of this beautiful wedding is on my Home Page.
'Thankyou so much for our ceremony in the mail I cried over it all again! Thankyou for a magical and wonderful ceremony it was truly special and more than Layton and I could of ever dreamed of.' Linda & Layton Parkwood Village Sept 2018
'Thank you so sincerely Liz. You are the most wonderful celebrant we could have ever wished for. You thought of everything and made our ceremony feel breezy and effortless. Thanks for your photos, you've enabled us to enjoy our ceremony again. We've yet to receive any official photos so thank you dearly. We cannot praise your professionalism and service enough. Thank you, Sarah and Ben.' Aug 2018
'Thank you so much :) Thank you so much for yesterday it was amazing and you're amazing! When I get some photos I will send them to you :) It was an amazing day and it went by so quickly. Bianca & Luke xxx Rosser Park May 2018
'Hi Liz, Thank you so much for the photos and also for the beautiful personal service you provided us with. Our day was perfect and everything was exactly as we were hoping for. It would be our total pleasure to give both you and your service the beautiful review it deserves. Kindest regards Troy and Jeanette XO' Shearwater Park May 2018
'Evening Liz, I just wanted to say a huge, huge thank you for Friday. The ceremony was beautiful. You have been amazing throughout the entire process. All our friends and family thought that you really captured us and who we were as a couple. Appreciate all the support. Thank you muchly.' Bianca & Steve Eagle Heights Hotel Mt Tamborine April 2018
'Liz, I think your service was absolutely amazing!! Hayden and I had the best day and don't believe it could of went better, family said you were lovely and you were just what we wanted you to be. Thank you so much. xoxo' Tanya & Hayden Palmer Colonial Feb 2018
'Thank you so much for being the perfect celebrant!! I love all the photos your husband took - amazing, thank you! We would love to catch up with you, perhaps over the Xmas holidays. You helped make our day one we will never ever forget, we had the best time and so did all our guests. Thank you. xxxx Misha & Daniel Parkwood Village November 2017
'Hi Liz, Rick and I would like to thank you for making our special day just that extra bit special. Our wedding was stress free and just how we imagined it to be. Thank you for making our ceremony so personalised and taking the time to get to know us as a couple. We highly recommend you and wish you all the best.' Rick & Renee Boomerang Farm August 2017
'Liz, Thank you so so much for yesterday and for being the absolute perfect celebrant you are. We honestly can't thank you enough. The ceremony was everything we wanted and you reached and exceeded all our expectations. So many of our guests (and even the photographer!) commented on how amazing you were, which I think speaks volumes. Your presence and reassurance really went such a long way in calming Craig and I (as we were both losing it) and were just so lovely and kind. Thank you once again for all you did.' Craig & Stacey x EcoStudio Fellini August 2017
"Hi Liz! I can't believe it's all over! Thank you so much for everything, you were perfect." Kelly & Ryan x Coolrain Estate, Currumbin Valley April 2017
"Hi Liz! I just wanted to thank you again for the amazing job you did at our wedding! Couldn't be more happy with how things ran for the ceremony. So Thank You so much!" Kimberly & Peter Parkwood Village March 2017
"Hi Liz, We just wanted to say thank you so much again for your amazing work on our wedding day. You have helped us a lot for the timeline and giving us so many useful tips. Our wedding couldn't have been better, it was a perfect day for us. Thanks heaps!!" Regards Damian & Ziyi October 2016
"Hi Liz, We are back into reality. We were over the moon after our wedding day. It was perfect. Thank you so much for a beautiful ceremony. I've had lots of lovely comments about your work and how lovely it was. You were amazing and made us feel so calm and relaxed. Thank you so much." Taren & Lyndon August 2016
"Good morning Liz, Where do I start....From the bottom of my heart I just wanted to truly say how much of an impact you had on our special day yesterday. Although soooo emotional our ceremony was just wonderful. It was exactly how I envisioned it would be. Thank you for staying and celebrating with us and also for your lovely gift. I hope you had a lovely day and evening as much as we did. Bless you" xxx Farren & Rowan August 2016
"Dear Liz, We were thrilled to have you and Grant attend the wedding, and will be ever thankful for our very special and personalised ceremony. Thank you again Liz for your calm approach, encouragement and positive outlook - these characteristics made the event a success, and were just the right mix of what we had hoped for. So thanks for being awesome." Warm regards, Mrs and Mr O Jan 2016 Toowoomba
"Dear Liz, I wanted to thank you for being a part big part of our special day and making the day one to be remembered for generations. We couldn't be happier with your heartwarming service, which was full of joy, love and happiness. We were especially grateful to have you because we could feel the love and care from you so much that you became a part of our family. Many of our good friends at the wedding mentioned that it was the most memorable wedding they'd ever been to and none of this was possible without your blessings. We leave the Gold Coast tomorrow but we are certain that we'll be back here. It would be great if we could thank you personally again then. Again, thank you for all of your wonderful services. We hope to see you soon! Sincere with love" Brett and Ai Sept 2015
"Hi Liz, Thank you for the beautiful ceremony. It was lovely and just what we wanted. Heaps of people said to us that you were the nicest celebrant they had heard at a wedding and my Mum thought you were best celebrant she had ever heard.. so thank you! Thanks so much." Breanna & Colum Sept 2015
"Dear Liz, Thank you sooooo much for making our perfect day, even more perfect!!! We really appreciate the effort you put into the ceremony and support leading up to the day." Lots of love Mr & Mrs Guy xxx Aug 2015
"Hi Liz, Thank you so much for being our celebrant Liz. It was lovely to have you there and for being so accommodating. Everyone was moved by the service you delivered. Thank you so much for the photos and I will definitely send some others through when i get some. Once again thank you so much." Kind regards Michelle & Hamid July 2015
"Thanks for your support, assistance and patience Liz! It was such a pleasure to have you preside over our wedding. We loved the relaxed feel that you gave to our ceremony and all the special touches you suggested." <3 :) "Liz was easy going with spectacular ideas for our ceremony. She gave us lovely options that suited our personalities. It was a great help to us that Liz was supportive and flexible with writing our vows and organise the details of our ceremony." Amanda & Martin May 2015
"Dear Liz, I would like to Thank You for all that you did and we are thankful we could have you on our special day. You made our big day very special! We couldn't have had it without you...we are saying that we want to repeat the ceremony, the same one with you every day!! It was the best day ever, thank you sooo much again." Best Regards Toko & Evan, March 2015 (a couple who reside in Hong Kong)
"Thank you so much for providing the most beautiful ceremony everyone was complimenting you and we all felt a lot of love in the room, which is great!!!! Hope you enjoy the photos, take care xoxo" kind regards, Siobhan & Craig Nov 2014
"Dear Liz, We very much appreciate your photos!! We have been very busy after being back to Hong Kong. We will send you photos again when we receive some more official ones. Once again thank you very much for your great help on our big day. Keep in touch and wish you all the best." Best RegardsFariea & Ivan Dec 2014 Renewal of Vows
"Dear Liz, Thank you for your guidance and support on our wedding day. You were the perfect celebrant for our perfect day. You helped keep us focused on the most important thing, our love for each other, despite our nerves and the rising floodwaters. Our wedding was an intimate romantic celebration and our Italian honeymoon was the perfect start to married life together. From a moonlit ride in a Venetian gondola, to living in a Forentine palace and crazy scooter rides along the Amalfi Coast, we'll treasure our memories for the rest of our lives! Thank you again for a beautiful day." With much love from the newlyweds Amber & Craig Oct 2014 Brisbane wedding
"Liz is an absolute beautiful, warm, professional woman who goes above and beyond. We started planning our wedding 1.5yrs in advance from interstate and Liz was there every step of the way! Our perfect ceremony was last Saturday and we could not have been happier. Thank you so much for all your care and professionalism Liz.. You're amazing and we will be forever grateful." Christy & Phillip Oct 2014
"Thank you so much for everything, yesterday was fantastic and everything we could have asked for! We thank you from our hearts and souls." Phil & Aja Sept 2014 (a couple who reside in New Zealand)
Liz, Thank you soooo much for your comments and sooo much for your anticipation of the disasters that continually occurred. Thank God for you and your fabulous husband. I loved your involvement to make it such a wonderful occasion and I would be delighted to refer couples to you at any time and feel free to use me as a reference at any time in the future. Much love to you and your husband." Di & Paul April 2014
"Dear Liz, Thank you so much for your kindness, guidance and all your wonderful work. You have been a delight and we have enjoyed planning our wedding with you. Thanks so very much for marrying us in such an intimate and personal ceremony. We will hold it dear in our hearts." Love Donna & Peter March 2014 (I wrote two ceremonies for this couple - one for their small intimate legal wedding and one for their overseas celebration)
"Just like to thank you for the beautiful service you did on our wedding day. We appreciate everything you did for us. The photos of the flowers are absolutely beautiful - the photographer didn't take good ones like that. Thank you very much for them." kind regards David & Sophia Sept 2013 for a NSW wedding
"Hello Liz, Again thank you for your help and your wonderful attention to detail with our wedding ceremony. Last night we had a family gathering where we told all of my family that we were married and there was much joy and excitement. Again thank you for your participation and efforts for our wedding. Everyone involved had a great time and much appreciated you personally, your professionalism and your relaxed style." Hugh & Kahori Aug 2013 South Stradbroke Island ceremony
"Hi Liz, I just wanted to say a very big thank you to you for being a part of our big day on Saturday. Although the ceremony was a big blur to me, our guests have said how lovely it was and how much a nice person you were, which we think you are too. So thanks for everything and for stepping in at the last minute, we truly appreciated it." Catherine & Matthew April 2013
"Chris & I would just like to thank you so very much for being our celebrant and officiating our wedding. You did a marvellous job & I had a lot of lovely comments about how nice and modern the ceremony was. We would also like to thank you for helping us out last minute and taking over, we were very lucky and fortunate to get you."warmest regards Rachel & Chris March 2013
"Thank you very much for all your help and sharing our beautiful day with us. You went above and beyond to help us. The ceremony was just beautiful and the day will be a day we will remember forever in our hearts. Thank you once again." Amy & Beau March 2013
"We had an amazing wedding day it was everything we could have asked for and more and a lot of it is thanks to you. I still can't believe what great weather we had for our special day, so lucky! From the very first day we all met you, you have always been helpful and just lovely to deal with. Cam and I were always confident with you as our celebrant that the day would go off without a hitch so thank you very much. Thanks again for all your help, you are truly a special person and your job is perfect job for you." Brooke & Cam February 2013 (a couple who reside interstate)
"Dear Liz, Thank you for your warm wishes and kind words to us for our wedding. We could not have asked for a more perfect day and it was truly the happiest day of our lives. We would also like to thank you for your kindness, professionalism and patience throughout the whole process. Thank you for making our wedding ceremony simple, elegant and truly beautiful and we cannot thank you enough for the support you gave us from day one." love Brendan & Samantha Sept 2012
"Dear Liz, Sara and I would like to say a big "thank you" for the best day in our lives. We were drawn to you from the very beginning and somehow knew that you would understand what we wanted from our special ceremony and we were 100% right! You are a lovely person, very sensitive and warm. You tuned into us immediately and helped to make the whole process smooth and easy. You were more than professional, you were immediately a friend, listened to us and expressed it so beautifully in the words of the service. Just about every guest said that it was the best wedding ceremony they had ever attended! Half of them were in tears, as were we! We honestly could not have asked for more, thank you, Liz." Nicholas & Sara April 2012
"Hi Liz...thank you for conducting our wedding ceremony. You in particular, gave the ceremony such a touch of romance and poise and it was so easy to follow you as you led us to such a happy ending. We hope to renew our vows on the beach in a few years time and when we do, we'll be in touch." Kevin & Robynne (who have since renewed their vows!)
"Thank you Liz, you made us feel so relaxed. Your voice is beautiful to listen to. We thank you for being part of our day." Daniel & Natasha
"Dear Liz, Thank you for your lovely wedding ceremony you performed at our wedding at Currumbin Beach. We both felt relaxed when we met you and through the whole wedding process. The ceremony was everything we could wish for and more. You helped us express our love for each other easily on the day in a way that made us feel the love. You certainly went beyond your celebrant duties when you sprang into action when Tony's mother fell ill and supported us through a difficult time but we came through it and Tony's mother is fine. Your very caring, calming nature but always professional manner gave us a wonderful wedding ceremony that we will always remember. Thank you and we highly recommend you for other couples weddings. Enclosed is a Mother of Pearl Koru shape shell necklace which means new life, new beginnings. This is a small token of our appreciation for you." lots of love Tony & Suzanne
"Dear Liz, thank you for making our son's wedding day so special, we were so pleased at your wonderful service and good fun as well. You are truly one of God's people to bring so much joy to so many. Once again, thank you for everything." Maureen
Let me help you create a perfect day for your beautiful Gold Coast wedding ceremony.
"Love is a canvas furnished by nature and embroidered by imagination."
voltaire