Kiss Me Quick Package
My 'Kiss Me Quick' Package is $350* for couples who want to legally marry without the bells and whistles. Think 'I do, I do, let's go' or a micro marriage - yourselves and two witnesses. This package is only applicable for weddings held on the northern Gold Coast within a 5km radius of my home at Hope Island. For weddings held in any other location, sunrise, midnight or New Years' Eve weddings, POA as I'm happy to do these ceremonies anywhere. First responders: paramedics, police, fire officers, defence force personnel receive a 10% discount. Strict conditions apply & inclusions are:
all legally prepared paperwork before, during and after the marriage ceremony to cover all the legal vested obligations of an authorised Marriage Celebrant & Justice of the Peace (Qual)
the couple are to provide 2 witnesses over the age of 18 (extra charges may apply if these are required to be supplied for you)
the couple are to adhere to the minimum one month's notice for all paperwork before the ceremony unless there are extenuating circumstances requiring a court order for a shortening of time
ceremony duration up to 10 minutes
choice of personal wedding vows, if required, as well as a keepsake copy
maximum number of 15 adult guests, excluding wedding party
invoices, agreements, receipts, as well as a pricing & refund policy given for all transactions
phone contact on the day of the wedding prior to the ceremony
Liz's clothing to reflecting the importance of the day complimentary to your bridal party.
* Please note, this package does not include a rehearsal (an extra $50 applies on site or at no charge in my home office), a letter for Immigration purposes as extra charges apply or your 'registered' marriage certificate issued from the Registry of Births, Deaths & Marriages, however, I apply online for this on your behalf.
Additional Services Offered:
* Transport option of a black 1956 Thunderbird convertible, enquire for pricing. Driver included so only seats one.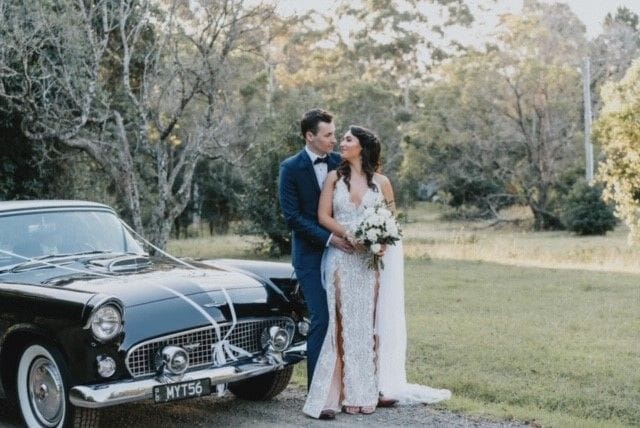 * Specifically tailored accommodation packages can be provided for your honeymoon at Couran Cove Island Resort, please ask for more details and availability, as block out dates do apply.
* If a letter is required for the Department of Immigration and Border Protection or other Government agency, there will be an additional fee of $100.
Please note, pricing for all packages are current if the non-refundable booking fee of $200 has been paid prior to 31st December 2022, otherwise they are subject to change. Bookings cannot be guaranteed until the booking fee has been paid securing your date & time just for you and applies to all packages.