Indulgence Package
My 'Indulgence' Package is $750* (midweek weddings $700) and includes the following for weddings held on the Gold Coast, including Mt Tamborine. All other areas POA.
First responders: paramedics, police, fire officers, defence force personnel received a 10% discount.
all legally prepared paperwork, before, during and after the marriage ceremony to cover all the legal vested obligations as an authorised Marriage Celebrant & Justice of the Peace (Qual)
a ceremony specifically written and tailored for you including a range of vows, the asking, poetry & readings with as much or as little input from you
a personalised ceremony professionally delivered with warmth and authenticity
Liz's clothing to reflect the importance of the day complimenting the bridal party
all travel expenses, if the ceremony is held on the Gold Coast, excluding South Stradbroke Island
use of a fully portable & cordless microphone with amplifier speaker system integrated for iPod/phone compatibility, if required. Please note if an iPod/phone is to be used, the couple are to nominate a guest responsible for the music during the ceremony. All music must be from an original CD or downloaded (not livestreamed as it never works) from a legitimate source for copyright
information on quality wedding vendors gleaned from over 17 years in the wedding industry
choice of calligraphy or laser printing on your 'Couples Certificate' presented to you on the day
phone contact on the day of the wedding prior to the ceremony
paperwork supplied for the application of any permits as required by Gold Coast Council Council or Scenic Rim Council
use of a signing table, white satin cloth & overlay and signing pen, if required
a keepsake copy of your wedding ceremony
change of name checklist
* If a rehearsal is requested, an extra charge of $50 applies to the 'Kiss Me Quick', 'Romance' & 'Indulgence' Packages, is subject to availability and limited to half an hour. A run through at no charge is available to you in my home office or my local park.
Additional Services Offered:
* Transport option of a black 1956 Thunderbird convertible, enquire for pricing. Driver included so only seats one.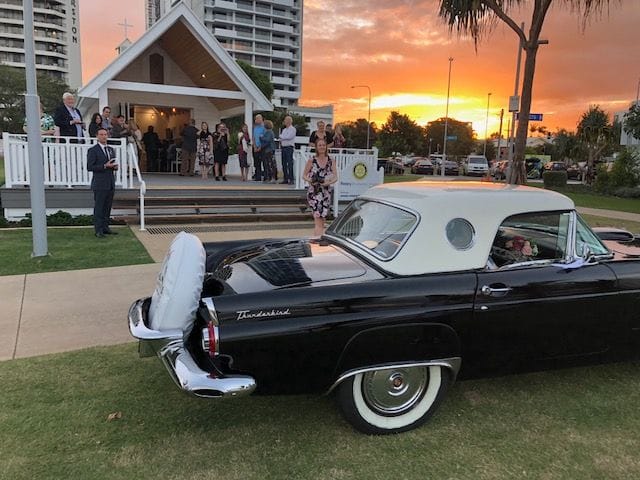 * Specifically tailored accommodation packages can be provided for your honeymoon at Couran Cove Island Resort, please ask for more details and availability, as block out dates do apply
* If a letter is required for the Department of Immigration and Border Protection or other Government agency, there will be an additional fee of $100
Please note, pricing for all packages are current if the non-refundable booking fee of $200 has been paid prior to 31st December 2022, otherwise they may be subject to change. Bookings cannot be guaranteed until the booking fee has been paid securing your date & time just for you and applies to all packages.